Steel structure chicken house
Steel structure chicken house is a new type of chicken house with high return on investment and environmental protection. It is composed of steel structure frame, roof maintenance plate, wall and matching equipment. The chicken house adopts light-weight insulation wallboard and insulating sandwich board to form energy-saving insulation layer. The insulating sandwich board has color steel plate on both sides and glass fiber cotton insulation layer in the middle. Galvanized columns and purlins are used for the frame to prevent corrosion; automatic temperature-adjusting ventilator and water curtain are installed on the wall around the roof insulation, and no power fan is installed on the roof.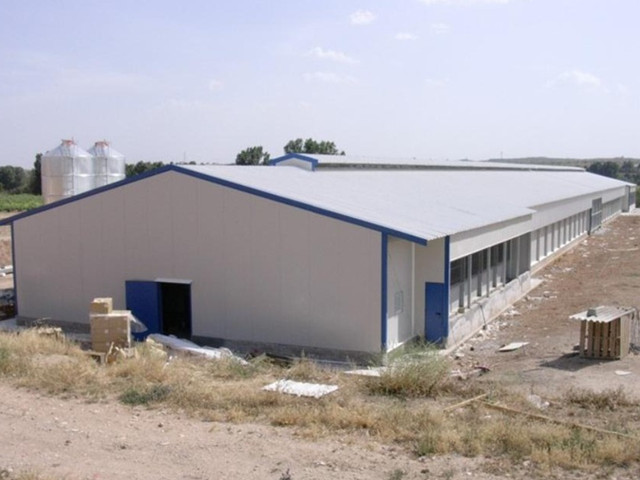 One of our project is located in Algeria, the chicken house is mainly used for laying hens, the estimated number of feeding is 25,000-30,000. The chicken house is 180 meters long, 15 meters wide and 3 meters high, covering an area of 2700 square meters. The main steel frame is made of H steel, with a total of 48.6 tons of steel structure. The 5cm and polystyrene sandwich panels are used for wall and roof. There are no large windows on each side, and only emergency windows and ventilation holes are provided.
Customer requirements: chicken house size and area according to the number of suitable for 30,000 chickens, to ensure strong indoor sealing, followed by ventilation. And keep the temperature and humidity inside. As far as possible, we should save the cost and maximize the use of space.
Project follow-up: First of all, Algerian customers through the mail to inquire about the price of chicken house, and then we design according to the needs of customers, the scheme and price determined, the customer came to our company for inspection. Satisfied with the technology and production of the factory, and finally signed the contract with the company.
After signing the contract, the factory began processing, the main steel frame and wall, roof maintenance system processing at the same time, in 20 days all finished processing, direct shipping containers, all cargo used a total of 11 40 feet high container.
If you have the following similar projects, you can contact us at any time, we will design for you perfect shape, economical materials, to ensure the stability of the building.