steel structure workshop manufacturers
SANHE steel structure workshop has features of high fire resistance, strong corrosion resistance. Steel structure warehouse is mainly refers to the main bearing component is composed of steel. Including the steel columns, steel beam, steel structure, steel roof truss.Each component using welds, bolts or rivets to connect.
steel structure workshop usage scale includes large-scale workshop, or warehouse, supermarkets, entertainment centers and modular steel structure garage.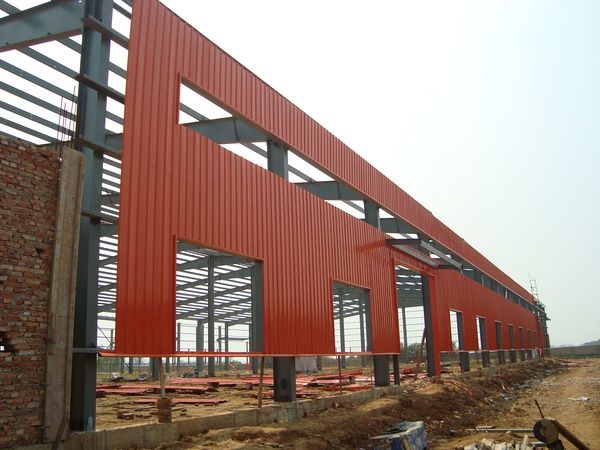 steel structure workshop roof and wall can be made of composite panel or veneer. Galvanized sheet metal can prevent rust and corrosion. The use of self-tapping screw can make the connection between the plates more closely, to prevent leakage. You can also use composite panel for roof and wall. The sandwich is polystyrene, glass fiber, rock wool, polyurethane. They have good thermal insulation, heat insulation, fire-retardant. The wall of the steel structure maintenance also can use brick wall. The cost of a brick wall is higher than galvanized steel roof and wall.
Our total annual output for Corrugated steel sheet,Sandwich panel, Floor decking sheet, C&Z purlin is about 7000tons. We are now becoming one of the largest manufacturers in Hebei province.If you are finding steel structure workshop manufacturers, you can contact us!
If you are interested in out products,plz give us the following information:
(1) Dimension: Length, width, height, eave height, roof pitch, etc.
(2) Doors and windows: Dimension, quantity, position.
(3) Local climate: Wind speed, snow load, seismic magnitude etc.
(4) Insulation material: Panel type, sandwich materials, sandwich thickness
(5) Crane beam: Do you need crane beam inside the steel structure? And its load.
(6) Is there any materials that are not allowed to import to the country where the structure is planning to use?
(7) If you have other requirements, such as fire proofing, insulated roof, etc. Please also inform us.
(8) It's better if you have your own drawings or pictures. Please send them to us.